Talking on the phone can be a frustrating and difficult experience when someone has hearing loss. Luckily many different resources and products can help people who have difficulty hearing understand the person on the other end of the line.
Shopping for a phone for the hard of hearing can be a confusing experience with many factors to consider. If you are unsure of what type of phone will best suit your needs, please read on because we have put together a guide to help you find what will work best for you or someone you are shopping for.
This guide covers:
Types of Phones for the hearing impaired
What kind is best for your level of hearing loss
Features
Cost/Budget
Where to Buy
If you have any questions about phones for people with hearing loss, please contact us at [email protected].
Types of Phones for the Hearing Impaired
There are a variety of different kinds of phones or devices that are helpful for hearing loss. All have advantages and disadvantage depending on the level of hearing loss that you have. Generally the types of devices that are best for the hard of hearing fall into one of the following categories:
Amplified phone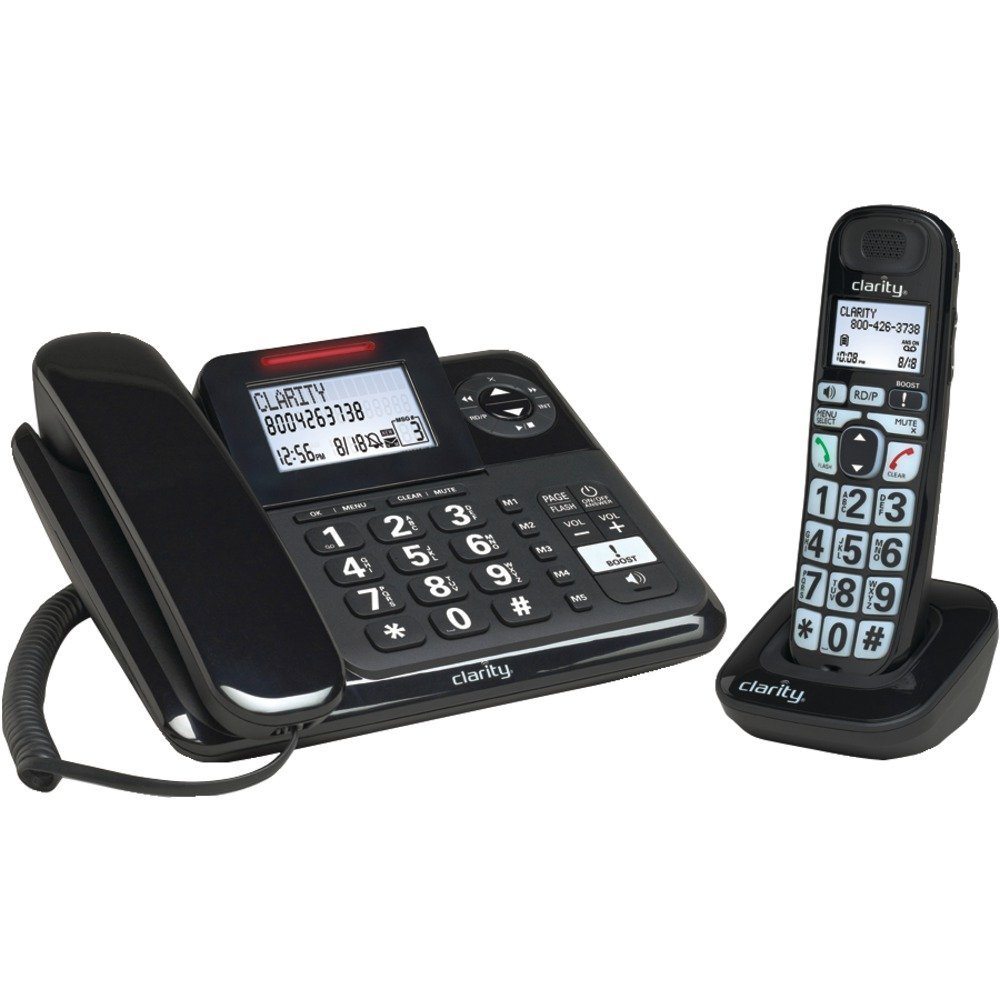 Amplified phones allow people with hearing loss to turn up the telephone volume level much higher than a traditional telephone so voices can be heard comfortably and clearly.  They also usually allow users to modify the tone of the other speaker's voice to suit the hearing of the listener.
Amplified telephones come in a range of different amplification levels, to choose the right device you should know the general level of decibel (dB) hearing loss you have. As a rough guide, telephones with 18-28 dB of amplification are good for mild hearing loss; 30-48 dB of amplification for moderate hearing loss; and 50-55 dB of amplification for severe hearing loss.
Most of these types of phones amplify the incoming voice, although some amplify both the incoming and the outgoing sound. Sometimes people with hearing loss are also soft-spoken because they are unable to hear themselves speak properly.
PROS: Amplified phones are easy to use, volume control is built directly into the telephone, and you don't have to worry about compatibility problems. With most of these types of phones, you can get an amplification increase from 30-50 dB.
CONS: Phones with built-in amplifiers are more expensive than an add-on amplifier. Some might not work well with hearing aids.
PRICE RANGE: $60 to $200+
Portable Amplifiers
If you don't want to buy anything new and would like to increase the sound level of an existing phone, you can purchase a portable amplifier. It is a small device that you will attach to your regular phone to help amplify the volume of incoming calls while blocking feedback and background noise. They usually work best for people with mild to moderate hearing loss. These devices increase sound by up to 40 decibels and generally can control the tone of speech.
PROS
They are inexpensive.
An add-on amplifier is portable so you can take it with you if you travel.
Easy to install.
CONS
Compatibility with existing phones (especially older models) is often a problem as it only works with specific models.
Price Range: $50 or less
Captioned Phone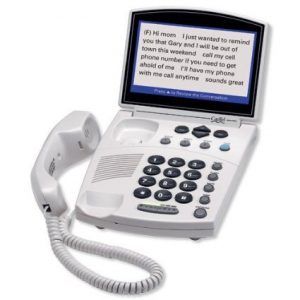 Captioned phones are another option for anyone who needs assistance with communicating. They are the same kind of idea as captioning on a TV, in that the voice on the other end of the line gets transcribed into captions that are displayed on the captioned phone, making it much easier for the hard of hearing to listen as well as read what other person is saying.
The captioning service is free to use as it is funded by the FCC. Although to use it you need to have a captioned phone as well as a high-speed internet connection.
Whenever a call is made on a captured phone, the phone automatically connects to a third party captioning service. The operator listens to the other caller who is speaking, and then the voice gets transcribed into the captions that are displayed on the large, easy-to-read, built-in screen of the captioned phone. It works like a regular telephone all you need to do is speak and listen using the handset.
A captioned telephone may also be called a CapTel, which is the leading brand name for a captioned telephone.
If you want more information about Captioned Calls or CapTel, the following websites explain it in more detail and show you how to get set up:
If you would like to use your regular phone and have a captioning display on your computer screen (rather than having to purchase a captioned phone), there are services that offer this.  Users can listen to the other person speaking through any telephone, including cordless, landline or cell phones and also read what the other person is saying on a computer monitor or laptop.  For more information on Web-based CapTel see the following websites:
PROS: No interaction with an operator, no complicated procedures to follow, you won't miss any of the conversations. Captions appear automatically on all calls. No need to dial a toll-free number first. Easy to read display. The option of having captions on or off. Most of the newer phone models have touch screen making them easier to use.
CONS: You must have an internet connection. If you have a speech impairment, it may be difficult to use. Conversations are relayed through a third person.
PRICE RANGE: Service is provided free for each state, phones range in price from $100-$200. Depending on your disability and income you may be able to get a phone for free or with a discount.
VCO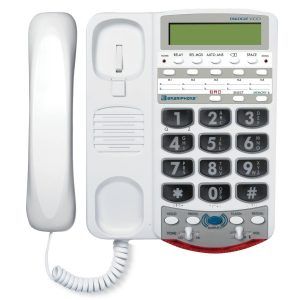 VCO (voice carry over) are phones allow an individual who can speak but cannot hear well to see what the other caller is saying by reading the conversation. They are very similar to captioned phones, but they use a different type of relay service, so you don't need an internet connection to use this type of phone.
The other big difference between a VCO phone and a captured phone is that with a VCO phone you are not able to hear what the other person is staying – you can only read it. Captioned telephones let you hear and understand what the other person is saying at the same time you are speaking to them. VCO is a combination of voice and text communication. The other person's voice responses are typed for you to read, either by the person or by a particular operator through a Telecommunication Relay Service (TRS).
You can make a single line VCO call or a two-line VCO call. A single line means that you are speaking to the relay agent and then waiting for the typed response of the person you are talking to. If you get two phone lines (with two different numbers) installed at your home, then you can make what is called a two-line VCO call. If you use two lines, one phone line lets you speak directly with the person you are calling, while the second line is used to receive the relay agents typed response from the other person.
PROS: The speaker doesn't need to type anything, but can speak it directly. The relay agent is the only one who needs to type.
CONS: You aren't able to hear the person on the other end of the line; you can only read what they say unless you are using the 2 line VCO. You will have some interaction with the phone companies relay agent, and there is a bit of a procedure that you have to follow when you make a call.
PRICE RANGE: If you meet certain requirements you might be able to get a VCO phone at no cost, check with your local phone service provider. The VCO relay service is free as it is also funded by the FCC.
TTY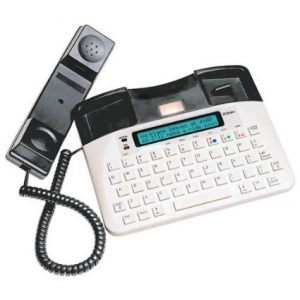 A TTY is a device that enables people who are deaf, hard of hearing, or speech-disabled to use the telephone by typing messages back and forth to one another instead of talking back and forth. You can think of it as being similar to text functions on cell phones, but with TTY you can 'text' over a landline. You are typing a message back and forth with someone, so users on both ends of the conversation need to have a TTY device unless the call is placed through a relay service.
TTY devices used to be the most popular way for hard of hearing to communicate, but recently newer technology like texting on mobile phones has become a much more convenient way for the hard of hearing to communicate with friends and family. They are however still handy devices, especially when having to deal with government services and programs.
If someone with a TTY device needs to call a regular phone they call a relay service by dialing 7-1-1 and the relay service will verbally relay the conversation to the person at the other end. Also if someone without a TTY device wants to call a person with a TTY device, they can also call 7-1-1 to have the relay service communicated the conversation to the TTY user. The Relay service must be provided free of charge, 24 hours a day by every state.
These types of devices are also referred to as TDD or a Text Telephone.
PROS: You do not need internet access to use TTY.
CONS: You need to know how to type.
PRICE RANGE: $200 – $600 for the TTY. The TTY service is free.
Emergency Telephones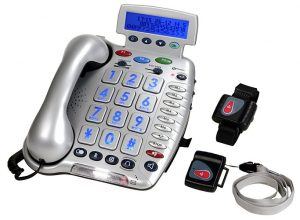 You can get emergency amplified phones that are designed for anyone who needs a volume boost on their phones. There are different companies and features on these types of emergency devices. You can get systems with a watch or a pendant that you wear around your neck that will contact an emergency number with a push of a button. Some have monthly fees while others work with your regular phone line. The phone that is pictured above is the Geemarc Ampli600 Amplified Emergency Connect Phone.
PROS: Watch or pendant can give peace of mind for anyone living alone if they become unable to dial for themselves. Some don't have a monthly subscription fee.
CONS: Tend to be more expensive than a regular amplified phone.
PRICE RANGE: $150-$300
Amplified Cell Phones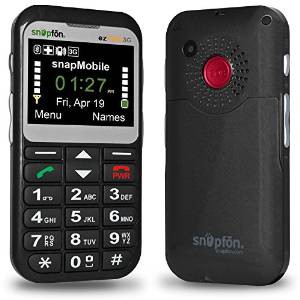 Another option to consider is to get an amplified cell phone. Cell phones can offer several benefits to the hard of hearing. They are portable, you can text easily, there are phone captioning apps available, and you can amplify the sound of the conversation quickly. There are a few amplified phones on the market that have similar features like big keys, loud ringers, bright displays, emergency call button, with amplification boost up to 40 dbs. These cell phones are typically designed for seniors, so they are easy to navigate and easy to use.
PROS:  These have a lot of the best features of hard of hearing phones rolled into one. They are amplified, you can text on them, have large buttons, are easy to use, can be used in an emergency, and they are small, so they are very portable.
CONS: You will have to sign up with a phone provider for a monthly fee. You have to remember to keep the battery charged.
PRICE RANGE: $80-$400
What type is best for your level of hearing loss?
When you have hearing loss and are trying to find the right phone, several factors are essential to think about when you are looking at features and trying to determine what will work for you. You should think about how often you use the phone, how much you are willing to spend, is privacy an issue, do you like sending text messages, are you fast typist (if you are considering a TTY), do you already have two phone lines (for a 2 line VCO). Since hearing can be subjective, it is a good idea to do a bit of research before making a purchase.
For low to moderate hearing loss, the best place to start is with an amplified model; they are easy to obtain and set up. If you are finding that the amplification doesn't help clarify conversations, then you can move onto a captioned phone or another type of internet relay device. The primary purpose of an amplified phone is to increase sound capacity. After that is accomplished, the phone should be helping make sure the sound is as clear as possible. Some phones will increase the volume by as much as 30 to 50 decibels. Some people find their hearing loss is most noticeable only when they are using a phone. It could be because of the electronic changes made to a voice in phone conversations or because the pitch range on a telephone is slightly different.
If your hearing loss is moderate to severe, you may find that you cannot get the level of amplification that you need through an amplified phone. If that is the case, you should consider a captioned telephone, VCO or TTY device. It will help to avoid missing parts of a conversation, and you will still be able to hear the voice of the person on the other end of the line.
Features
Most of the phones that are designed for people with hearing loss have a lot of great features that can help people with their daily lives. Some of the elements may include extra loud ringers, caller ID, large numbers keys and an amplified speakerphone. Some phones can work with a headset, photo dialing, backlit keypads, answering machine or wall mounts. Some phones will also have special alerts that let you know if the phone is not hung up correctly. Here are some of the features that you will want to be aware of:
Ringers
Many of the amplified phones have settings that allow you to turn up the volume on the ringer, some capable of ringing about five times louder than a traditional telephone.  Some models have visual call indicators, like a flashing light so you can see when you are receiving an incoming call.  There are even model that connects to a lamp, and the light will flash if the phone is ringing.
Hearing Aid Compatible
If you're a hearing aid wearer, you may have a telecoil in your hearing aid. If you do have a telecoil, you should only get a phone that is Hearing Aid Compatible (HAC),  to help eliminate feedback that is sometimes experienced with hearing aids.  With the flip of a small switch, you can make sure that your hearing aids are only picking up the sound that is coming through the telephone, and not background noise around you.
Amplified Audio Boost 
The most critical factor in choosing an amplified phone is determining how much amplification you need.  Most companies will list the level that the phone can be amplified to, usually somewhere in the range of 30 decibels to 50 decibels.
Tone Equalizer or Tone Management
You should ensure that you get a device with a tone equalizer that lets the user adjust the tone and frequency of the other person's voice to better suit the users own hearing needs. A lot of people with hearing loss have difficulty in this area.
Adjustable volume control
Changeable volume control allows people with and without hearing loss who live in the same house to use the same phone. Volume control is also essential to consider when it comes to the ringer. You may benefit from having a variety of ring tones available since many people with hearing loss will find it more difficult to hear high-pitched noises.
Headphone compatible
Some phones can be used with headphones, which make the voice at the other end easier to hear as it minimizes background noise.
Visual message indicator
It is usually in addition to an auditory "beep" when there is a message, so the user does not have to rely on a sound signal if they have a message waiting.
Keypad
Since a lot of these types of phones are designed with seniors in mind, they often feature large fonts in lighted LCD and a lighted keypad.
Cordless
If freedom of mobility is essential to you, you should consider a cordless phone.
Answering System
Some models offer an adjustable playback speed to slow down speech patterns in messages from people who speak too quickly.
Warranty
If you are paying a lot of money for a phone, it is important to pay attention to the warranty and also the return policy. Because hearing can be somewhat subjective, a phone that has excellent reviews and works well for some people might not work well for you. In a lot of cases finding the right phone can be a bit of a trial and error. Make sure you can return the phone if it isn't right for you or if it stops working.
Cost/Budget
Price
Most phones for the hearing impaired range from $100 to $300. You can get phones with all kinds of bells and whistles, but you will pay for the extra features, so it is important to decide what features you will use when you are shopping for a phone. If you're looking for something simple to amplify the sound of a conversation, then you can save money with a less expensive device.
If, however, you want a device with some of the unique features like captioning screen or VCO you have to pay a bit more for those types of devices. Although getting the right phone can help make talking on the phone that much easier if you have hearing loss so that it can be looked at as an investment in the quality of life.
Under $50
Inexpensive devices such as Talking Caller ID devices and Portable Telephone Amplifiers will give you amplification on your phone for under $50. If you are considering one of these types of devices, you should ensure that it is compatible with your existing phone.
$50 to $100
There a are several great amplified phones that fall into this price category The Clarity are a top brand in the amplified market, and they offer several models including their basic corded Clarity Amplified Photo Phone for around $50. Panasonic has a cordless amplified phone for about $70. Features can be a bit hit and miss this price range, so you will want to have a closer look at those if you are buying.
$100 to $200
Most phones for the hearing impaired fall into this price range, you should get a good level of amplification, high-quality tone control, call display, caller ID and amplified answering machine. If you are looking for a TTY, Captioned, VCO phone you should expect to pay somewhere in this price range.
Where to Buy a Phone
Low-end phones and amplifying devices can be found through online retailers or at places like Radio Shack or Best Buy.
If you are looking for Captioned Phones, VCO phones or TTY devices you can get those through online retailers or direct from the manufacturer's websites.
If you think you may qualify for a free phone, contact your local phone service provider or search google for 'Free Hard of Hearing Phones' and your state to see what programs are available.
Clarity Amplified Photo Phone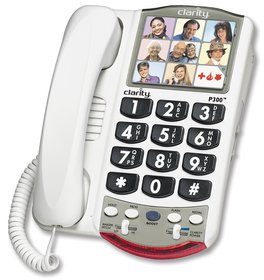 The Clarity Amplified Photophone is a popular budget model phone that has most of the critical features that are important for anyone with mild hearing loss for around $50. This phone is suited for those who need some assistance communicating over the phone, but don't want an overly complicated device to do it. Read the Full Review
Geemarc AMPLIPOWER50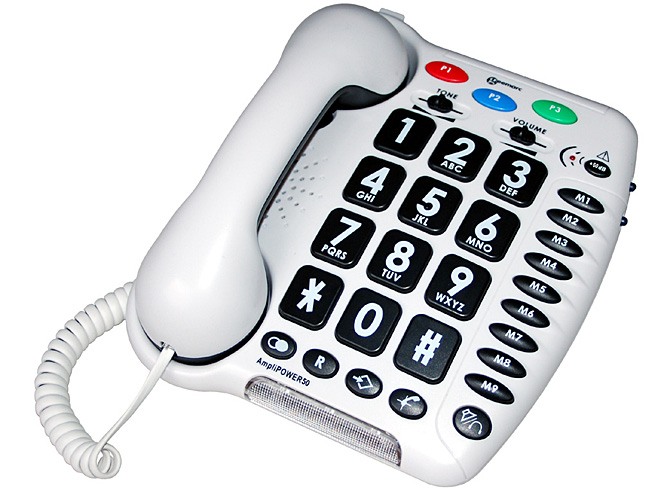 The AMPLIPOWER50 is the loudest amplified phone on the market. This phone is designed for users with severe hearing loss who need a sound boost to help hear when speaking on the phone. It has most of the bells and whistles that you would expect for a phone in the higher end price range including hearing aid compatibility, tone control, emergency button, multiple memory buttons, visual flashing ringer, and an extra loud ringer Read the Full Review
Clarity XLC3.4 Amplified Cordless Phone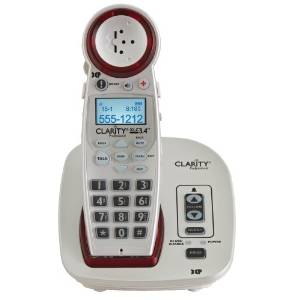 The Clarity XLC3.4 is one of the bestselling amplified cordless for customers with moderate hearing loss. It features an extra loud ringer, talking caller ID and dial pad with large buttons that speak the number when it is pushed. It also has a very bright visual ringer with voicemail indicator, along with most of the standard features for phones in the $100 price range. Read the Full Review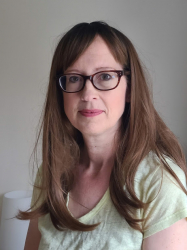 Latest posts by Frances Martin
(see all)