One of the best devices to help people with hearing loss hear their TV better is the TV soundbar speaker that contains hearing aid technology.
The most popular company that is making soundbars that includes hearing aid technology is ZVOX. They created a technology called AccuVoice that can lift voices out of the dialogue and sound that is coming out of your TV to make them clear and easy to understand.
Speakers that are specifically designed for those with hearing loss are a wonderful investment and make watching TV so much easier. We have rounded up a list of the best soundbars speakers for the hearing impaired and what you need to know about them.
| Product | Image | Price | |
| --- | --- | --- | --- |
| ZVOX AccuVoice AV200 | | Check Price on Amazon | Best-selling ZVOX sound bar that works well for general population with mild to moderate hearing loss. |
| AccuVoice AV155 | | Check Price on Amazon | The next level up to AV200. 6 levels give a range of clarity for mild to severe hearing loss |
| ZVOX AccuVoice AV203 | | Check Price on Amazon | Very similar to AV155 but has an aluminum cabinet and has physical buttons on the sound bar while 155 has no physical buttons, only a remote control for its settings and functions. |
When you are first looking at all of the different ZVOX models, it can be a little confusing as to what model may work best for you.
All current ZVOX speakers have AccuVoice technology, which uses hearing aid technology to make voices more understandable, so it is just a matter of finding the system that works best for your needs and setup.
This post is only looking at soundbars. ZVOX also sells a sound base style of system that you place your TV directly on top of. Soundbars can be wall-mounted or placed near the television.
Read More: Best Hearing Amplifiers (2021 Buyers Guide and Reviews)
Before You Buy
There are a few things to be aware of when shopping for a soundbar.
Compatible with your TV –  ZVOX systems will work with any brand of television as long the TV model has either a digital audio output or an analog audio output. If you have an older Samsung television with no audio outputs(not very common), they will not work with soundbars.
Design The designs all look identical but have different features depending on what model you get. The AV200 is the most basic model that works for the broadest range of people. The basic design is slim and doesn't take up much room. They also have a remote control to control the functions.
Sound Quality-The majority of customers find that adding a ZVOX system to their TV improves the overall sound quality and dialogue clarity. If you have severe hearing problems, you should look at one of the models with six modes of Voice Boost, like the AV203 or AV155.
Home Theatres Integration

If you have a complex setup or a home theatre, you most likely won't be able to add a ZVOX speaker into a surround sound audio/video receiver. Those A/V surround sound receivers are made to power non-amplified speakers.
Set up and ease of use – For the most part, these speakers couldn't be easier to install and set up. Where you may run into problems is if you have a complicated TV system setup or you have a wall-mounted TV where it is hard to get to the back of the TV.
Reviews:
ZVOX AccuVoice AV200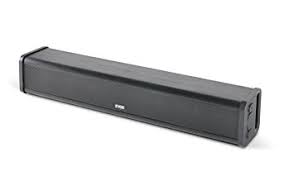 PROS:

A great introduction to the ZVOX soundbars
Works well for most people with mild to moderate hearing loss who have trouble hearing dialogue
CONS:
Not the best option for severe hearing loss
Bottom Line:
The ZVOX AccuVoice AV200 is the most popular of the ZVOX models because it works well for almost everyone, even people who don't have hearing loss and just find it hard to comprehend what is being said on a TV show because of bad sound quality.
It is easy to set up, easy to use, and users will notice a difference right away.
What reviewers love:
Users love that they get a dramatic improvement in sound quality, the cost is very reasonable, and it is easy to set up.
Available from Amazon
AccuVoice AV155


PROS:
Six levels of sound boost
Easy to adjust the sound with remote to get it how you like it
Easy to pair with other remotes
CONS:
A few people had minor issues with the remote not working properly
Bottom Line:
It is an excellent soundbar for users with hearing loss that have difficulty hearing the TV. You can use this along with your hearing aids or without. It is easy to set up, and the sound quality is phenomenal for most people.
It gives you more sound customization than the AV200 because of the six levels of sound boost, and you can adjust the bass and treble.
What reviewers love:
Users love the AV155 is very easy to install, and the improvement to the clarity of dialogue means that they can hear and enjoy the programs they are watching.
Available from Amazon
ZVOX AccuVoice AV203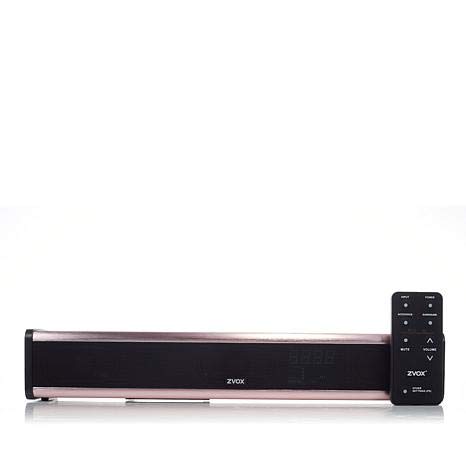 PROS:
Has buttons on the unit you can use to adjust functions in addition to remote
Come in an aluminum casing
6 Sound level boost
CONS:
When you increase the sound boost, you lose a bit of sound quality
Bottom Line:
It is another wonderful option with a hearing boost. The AV203 is almost identical to the AV155 in the way it performs except that it has buttons on the box that lets you change the functions and modes in addition to using the remote.
This is a nice-to-have option in case the remote stop working. It also comes in an aluminum casing, so the look is a little different than the other models.
The AV203 has six pre-set levels of AccuVoice. With each increase of setting, you can customize the sound to what you are watching and make it easier for people with hearing loss to watch TV.
It has excellent reviews, and people seem to like the price and the sound quality that you are getting.
What reviewers love:
Users love the selective boost since some programs are much more in need of raising the dialogue over background music and sound effects. Like the other ZVOX models, the design is small and unobtrusive, and it is straightforward to install.
Available from Amazon
The increase in popularity of soundbars has been fueled by the rise in flat-screen TVs that have terrible quality speakers. A lot of people of all ages are having difficulty understanding what is being said on TV, not just people who are dealing with hearing loss.
Why Get a SoundBar Specifically Designed for Hearing Loss?
At the risk of sounding like an ad for ZVOX, the reason the AccuVoice technology works so well for individuals with hearing loss is that it uses the same type of technology as hearing aids to separate voices from background noise, so the dialogue is much more precise.
Other soundbar options don't usually have a center speaker that helps for dialogue clarity. Also, many soundbars feature subwoofers that don't help make voices clear and easy to understand.
There are a lot of soundbars that are available, but if your issue is that you can't hear the conversation due to hearing loss, it is well worth checking out the ZVOX products.
Features
There are several features that you will want to be aware of when you are purchasing these types of listening systems.
Headphones -These speakers have a headphone-output jack on the back so you can connect your headphones to listen privately if needed.  You can use both wired and wireless.
You can use wireless headphones, but the wireless headphone transmitter won't be able to connect directly to the ZVOX system. You would have to get a splitter to split the audio output into two audio outputs then connect one output to the headphone transmitter and the other to the ZVOX system.
Placement – You can put the speaker anywhere around your TV, and they also come with hanger slots you can use to mount the speaker to the wall. The only restriction is that it must be in line-of-sight for the infrared remote to work.
Surround Sound–  All of the ZVOX's products have virtual surround processing.
Warranty – The ZVOX speakers come with 30 days return period (with some restrictions) and a 1-year limited warranty.
Summary
Watching TV when you can't hear the person speaking on the screen is very frustrating. With the poor speakers that are being used in flat-screen TVs combined with hearing loss, a simple fix is to check out the soundbars specifically design for hearing loss. They help to make dialogue crystal clear and offer several different models that are helpful for varying levels of hearing loss.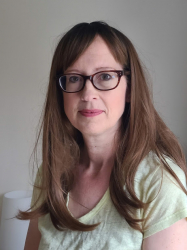 Latest posts by Frances Martin
(see all)