There are many TV listening devices that can help those of us who are hearing impaired hear the television better. Some of the best products are wireless speakers that act as a kind of hearing aid by transmitting sound from your TV to a speaker that you can place directly beside you. These types of speakers are perfect for people who don't like to wear headphones and find the headset listening systems to be uncomfortable.
If you are always turning up the volume of your television to the point that you are bothering other members of your family, you will definitely benefit from a television amplifier speaker system.
TV speakers that have voice clarifying software can be a great addition to any house hold that struggles to find a volume that works well for everyone. They are relatively affordable and there are a number of different options to choose from.
Read More: Best Hearing Amplifiers (2019 Buyers Guide and Reviews)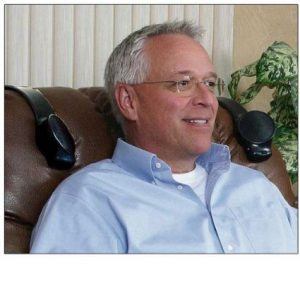 Features to Look for
Power Supply – The TV Ears and the Audio Fax use a power supply of 110v for the speakers, so you just plug them into an electrical outlet, without the need to worry about batteries wearing out. The Soundbox speaker uses a lithium rechargeable battery that is built into the receiver  that has a battery life of approximately 8 hours. When the battery light indicates that it is running low, you just place the receiver back onto the base to charge.
Radio Frequency of Infrared– Both Radio Frequency and Infrared systems are a popular choice as a TV hearing aid. They are both are relatively inexpensive, easily available and easy to set up and use. Both types of technology generally come with 2 parts: a transmitter that you plug into the back of your TV, and a receiver (the speaker) that will send the sound from the television directly to your receiver. Both types of systems can be used with or without a hearing aid. IR systems need to have line of site (similar to the way a TV remote control works) in order to operate, so they are slightly limiting. Radio Frequency transmits audio from the television wirelessly via FM waves to the speaker near the listener, the receiver DOES NOT need to be in the same room as the transmitter so you are free to take the speaker around the house as long as you stay within the product range.
Compatibility with your TV – All of the devices that we have recommended should work with any TV brand. You will just need to have access to the audio output jacks at the back of the TV. For older sets with no outputs, most systems feature optional microphones that users may place next to the speaker of the TV. If you have a wall mounted television you may have trouble getting to the back to access the ports, or if you have a complex system set up you may run into some trouble with setup.
Range- The TV Ears Speaker and the Soundbox speakers use infrared technology, so they must maintain line of sight with the transmitter in order to function. It works in much the same way as a television remote control. This makes the range somewhat limited, but if you are staying in one room and are not planning on moving around then either of these devices will be fine. If you are looking for a speaker that does not require line of sight and can work in another room, you can try the Serene Innovations TV Sound Box.
Sound Quality– The sound quality for most of these types of speakers is generally pretty good. If you are very particular about sound the Soundbox probably has the best sound quality. Since the speakers close to the listener's ears, the volume doesn't have to be cranked up causing it to sound unpleasant.
Design- TV listening speakers for people with hearing issue all have slightly different designs. Generally speakers that are designed to amplify the sounds coming from the TV look and feel like any other type of small speaker with the exception of the Audio Fox which has a very unique design. The big difference between these types of speakers and regular speakers is that they contain some kind of voice clarifying software, to help make hearing voices from the TV more clearly.
Setup-Setup for the most part, the set up for these types of speaker TV listening systems should be pretty straight forward. If you have a complex television set up you may run into some difficulties getting the system to work, but generally you should be able to plug the transmitter easily into the back of your television using the applicable audio port and necessary cables that come with the devices. Once plugged in you turn on the speaker and you should be ready to watch TV.
Ease of Use– None of the listening systems are very complicated to use. There is generally a large knob to adjust the volume and there may be an option to modify tone on the device. There will also on/off /mute options on the products so they are quite simple to operate.
 Warranties- The standard warranty for these types of products is a one year limited warranty and a 30 day money back guarantee. TV Ears offer an unusually long 5 year limited warranty.
Reviews:
Top Pick #1

ZVOX AccuVoice AV200 Sound Bar TV Speaker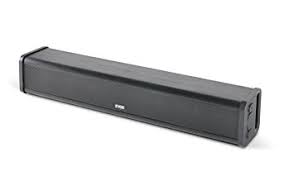 PROS:
Easy to set up
Easy to use
Does a great job clarifying dialogue
Compact
Bottom Line:
The ZVOX AV200 is a fantastic option for those who have trouble understanding voices on the TV. It uses the same kind of technology that hearing aids use to bring forward voice and make them understandable.
What reviewers love:
Reviewers love how well it works, how easy it is to use and the easy setup. It doesn't work as well as other speakers for listening to music.
Top Pick #2

TV Ears 11290 5.0 Wireless Speaker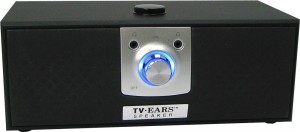 PROS:
Very easy to use
Uses voice clarifying technology
Can also be used with music devices
Can be used with headphones
CONS:
No remote
Requires line of site for it to work (like a TV remote)
Not portable
Bottom Line:
The TV Ears11290 5.0 is an easy to operate, wireless speaker that will benefit users who have a hard time hearing television dialogue. It does a good job of raising the sound of voices, while lowering the background music for more enjoyable television watching. This unit is especially useful for users who don't like wearing headphones or earbud (but you can also wear then with this speaker if you choose). It has a large easy-to-use volume dial and has digital connectivity with Dolby, SRS, and PCM compatibility; it also works with any brand of television.
What reviewers love:
Users love that the voice clarifying technology helps them to clarify voices on the television and reduce the background sound. It is also a very easy to use device because the large knob is easy to see and manipulate. Overall TV Ears makes it much easier to enjoy programs without bothering family members.
Top Pick #3

Serene Innovations TV SoundBox Speaker Receiver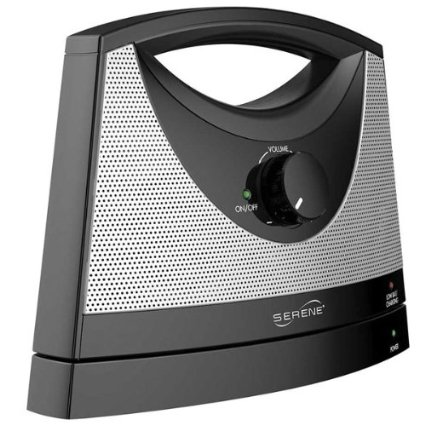 PROS:
Portable
Great quality sound
Easy to use
Lightweight and compact
Bottom Line:
The Soundbox is a fantastic option for individuals who want a cordless, rechargeable, portable speaker that they can move from room to room that has a good range and great sound quality.  This is a very useful product for anyone with hearing loss or family members that are forced to watch television at a level that is not comfortable for them. The Soundbox will help to eliminate some of the background sounds while also clarifying voices. It is also easy to set up and use.
What reviewers love:
Reviewers love that is it so light weight and easy to move around, making it the most portable of the TV listening systems. It also has great range so you can take it around your house or even into your back yard and still hear programs or music. It has a headphone jack so you can listen through headphones if that is preferred depending on the situation.
Also Consider

Audio Fox Wireless TV Speakers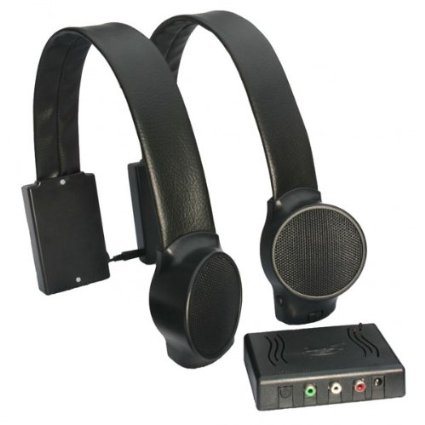 PROS:
Easy to set up and use.
Comfortable design
Don't have to worry about batteries
CONS:
Some users may have a problem with the device slipping off the furniture it is attached to. The set up instruction could be improved.
Bottom Line:
The Audio Fox Wireless TV Speakers are a great addition to any household who has a family member with hearing issues who likes to watch television at a high volume. The speakers for this TV watching system attach to the back of your chair, couch, or bed. They are more expensive than some of the other TV listening systems available, but they are well worth it if you don't like wearing headphones. It does not require line-of-sight like many other products on the market which use infra-red technology. To set it up all you have to do is plug the transmitter into your TV's audio out port and an 110V power outlet, and then turn on your receiver. It is compatible with any television audio output.
What reviewers love:
Users love the Audio Fox speakers unique design that let the sound from the TV go right to your ears without having to wear headphones that can be uncomfortable for some users. The speakers are also very easy to use, so they can work really well for many people who may have trouble using different types of devices.
What could be improved:
Some users find that the speakers don't clamp to the chair very well and the manufacturer needs to come up with an alternate attachment method if the chair or couch you are using the speakers on is thin than the width of the strap or if they are often moved to different locations.
Infrared vs Radio Frequency
Infrared systems use a small transmitter that converts the sound that is coming from your television into invisible infrared light waves that is transmitted to your receiver (usually a headset ) that turns the light back into high fidelity stereo sound that goes directly into your ears. You can then adjust the sound to your desired volume.  You can use this type of system with or without a hearing aid. IR systems plug directly into the audio output of a TV set.
Radio Frequency/FM listening systems transmit sound via radio waves that can go through walls and ceilings, so you can keep listening to the television in any room. The personal FM system consists of a transmitter microphone that is attached to the television and a receiver (the speaker). The receiver transmits the sound directly to your ears or, if you wear a hearing aid, to the hearing aid.
The main difference between Infrared and FM systems is that infrared light is unable to pass through walls so they are particularly good for situations where you want to move the speaker to another room or outside.
Bottom Line
There are many options to help hear the TV better and make watching a more pleasant experience for everyone in the family. Wireless TV speakers that can act as a type of hearing aid for television watching are a great product to invest in, not only are they relatively inexpensive, they are also easy to set up and to use. If you find watching TV as a person who has hearing loss or as someone who lives with an individual who has hearing loss these types of speakers are highly recommended.