Welcome to Hearing Amplifiers Hub. Here you will find everything you need to know about personal sound amplification devices. Whether you are looking for something to help you hear conversations better, hear your TV more clearly,  or be able to hear what is being said while at church or in a restaurant, we have you covered with information on what products will work best for your hearing loss.
For an in depth look at the Best Personal Sound Amplifiers see our post :
Best Hearing Amplifiers (2018 Buyers Guide and Reviews)
Or if you would prefer a summary of the top devices, please see the table below:
See all of our Top Picks for different amplifier styles and situations including:
Best Hearing Amplifier - 2018's Product Reviews
What is a Hearing Amplifier?
Hearing amplifiers, also known as personal sound amplifier products (PSAP), are wearable electronic products that are intended to amplify sounds for people who have mild to moderate hearing loss and need extra hearing support. PSAPs are not considered hearing aids, although a large number of people use personal sound amplifiers as a much cheaper alternative to hearing aids.
There is a wide range of different models of personal hearing amplifiers made by various manufacturers that use different types of technology and personalization to enhance hearing. You can use hearing amplifiers for television watching, to hear conversions better, while hunting, and while at movie or church etc. They are often designed to look like hearing aids, but you can also buy models that look like a Bluetooth phone devices or hand-held devices with headphones.
Since technology is moving so quickly, the quality of amplifiers is improving constantly and new devices are coming out all the time. With so many different devices to choose from with very different price points, you may find it a bit overwhelming to figure out what will work best for you. To help determine the best option for you, we have put together a guide that goes over what you should know before buying a personal sound amplifier.
Personal Hearing Amplifiers vs. Hearing Aids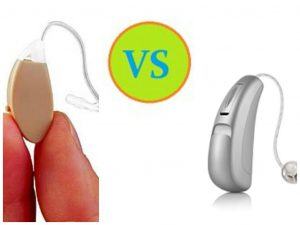 There is a lot of confusion over what makes a make a personal sound amplifier different from a hearing aid. Hearing aids and hearing amplifiers are both small, electronic devices that fit into the ear and amplify sound. They both use similar technology, although PSAPs are not regulated by the FDA in the same way that hearing aids are, and so do not require a medical prescription or a professional fitting. Hearing amplifiers are much less expensive than hearing aids, they range in price from $40 to $400, while hearing aids can range in price from $1000 to $7000.
Generally, hearing amplifiers do not perform as well as hearing aids and are not meant for people with medium to severe hearing loss. These devices are often marketed to people who aren't ready to get a hearing aid, who have trouble hearing in particular situations. They can also be useful for people who might be without their hearing aid temporarily or for people who are unable to use a hearing aid. Recently the U.S government passed the Over-the-Counter Hearing Aid Act of 2017 that will allow greater public accessibility and affordability with over-the-counter (OTC) hearing aids that are aimed towards people with mild to moderate hearing loss. It will take a few years for the FDA to come up with a definition for what is considered an OTC hearing aid, but it is highly likely that the current high-end PSAP, some of which we list above, will fall into the new OTC hearing aid category.
Hearing professionals are generally very critical of personal sound amplifiers, but that may start to change as a new generation of technologically advanced PSAP's become available. Some of these new devices use the latest wireless technology and come with software that lets consumers program the device themselves by downloading an app that lets you customize the sound to your own personal preference.
The quality of hearing amplifiers varies quite a bit, so if you are interested in one of these devices as an alternative to a hearing aid, you may want to skip some of the low end products. Also be sure that whatever product you are looking at has a good warranty and good customer support.
Where to Buy
Lower end behind the ear hearing amplifiers can easy be bought over-the-counter at your local drug store or somewhere like Walmart. Best Buy sells a few amplifiers like the Williams Sound Pocketalkers. You can also get all of these devices listed above through online retailers like Amazon, or in some case directly from the manufacturer.