The Smart Listening System is a new approach to the idea of a personal hearing amplifier. It is created by a technology start-up called Soundhawk, who made this device and app to help improve sounds in different situations and environments. It is not meant to replace a hearing aid, but it can be extremely helpful for anyone who might be having trouble hearing while talking on the phone, attending a meeting or having dinner with friends.
The Smart Listening System was officially released and started shipping at the end of October 2014. Soundhawk markets the Listening System as part of the very popular wearable technology market that has been getting a lot of attention lately. Most of the major people involved in the company have backgrounds at some of the top hearing-aid companies. The founder is Rodney Perkins, MD, an otologist at Stanford University School of Medicine and founder of the California Ear Institute.
How it Works
The system consists of the ear piece that is called 'the Scoop' as well as a wireless microphone that you can place near a person or something that you would like to hear more clearly. The Scoop clips onto your ear and it will elevate soft sounds, and reduce unwanted background noise in the same way that most amplifying systems do. What makes it different to other hearing amplifiers is that you are able to customize the sound profile to your own personal preference using an app that you download to your smart phone or tablet. The idea of customizing your amplifier is similar to the way that an audiologist adjusts the sound of a user's hearing aid. Although with the Soundhawk you can customize the sound profile anytime, anywhere, as long as you have the app.
Better than a hearing aid?
Whether smart PSAPs are better than a hearing aid is up for debate, but they do offer a few really cool functions that you can't get from a hearing aid. Beyond the obvious price difference, you can use the listening system as a Bluetooth headset for phone calls, or if you are driving it also works as an earpiece for GPS navigation systems.
One of the best things about this device is the ability to customize the sound profile whenever and wherever according to different sound environments that you may find yourself in (as long as you have the app with you).
The App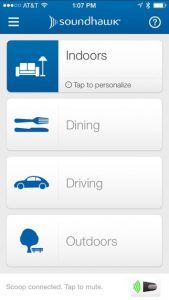 In order to customize the device you need to download and use the app. So in order to use this device you need to have a smartphone or internet connected tablet (see requirement above in comparison chart or check here). Once you have downloaded the app it will connect the earpiece wirelessly to a smart phone or tablet ear piece. The app uses algorithms to filter, mute, and amplify the sound.
To use the app you just move your finger across the screen to change the sound level to what sounds good to you. Then when you are wearing the device you also will be able to adjust it to the right sound environment on the go. With Soundhawk Scenes you can optimize your listening experience for different places and activities. Each sound scene has different settings ideal for different environments. For example when you select the Dining mode in the app, background noise will be decreased using digital noise reduction while the directional microphone will amplify the sound from whoever is in front if you. When you are outdoors and select the outdoor mode the device will use wind-noise management technology to cut down on any unwanted sound.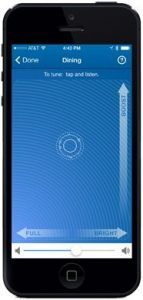 Uses
Soundhawk likes to emphasize that its listening system is meant for situational hearing environments, and is not to be worn all the time like a hearing aid. The main uses for it are when you are in a noisy restaurant, in a meeting, watching television, lectures and conferences, driving, sporting events, indoor performances, and anywhere you would have trouble hearing soft sounds.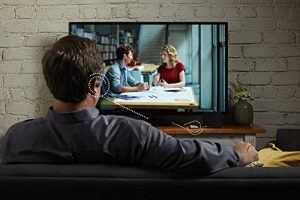 Since the Smart Listening System comes with a wireless microphone you can place anywhere near where you would like the microphone to pick up the sound directly. This works especially well with TV watching and in restaurants.
Design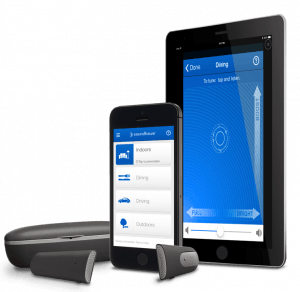 The system includes the ear piece also known as the "scoop", a wireless microphone, a recharging case and a smartphone app.
Although some people might use the Listening System as a kind of precursor to getting a hearing aid, it is certainly not designed to look like a hearing aid. It is designed to look like a Bluetooth device that you would use to make calls. This can be a positive or a negative, depending on your own personal style and thoughts on Bluetooth devices. If you would rather not wear something that looks like a hearing aid and don't want people to know that you are having hearing issues in certain situations, then this is a good alternative. If, on the other hand, you don't like the look of a Bluetooth device, then this isn't the right option for you.
Even though the "scoop" doesn't look like a hearing aid it does use some of the same type of technology like using adaptive audio processing to enhance key sound frequencies while reducing background noise. It also connects wirelessly to a smart phone or tablet, allowing the user to talk hands-free.
As for the physical design, it is very sharp and modern looking; you can get it in graphite and sand colors. The scoop is also extremely lightweight at only 6g and comes with 4 silicone rubber ear tips. You can wear it in your right or left ear, it will work in either.
The battery set up is interesting on the Soundhawk, you don't have to buy new batteries you just put the device into the reasonably small portable charging case that can recharge both the scoop and wireless mic twice before having to be plugged in. If you charge the scoop alone you can get up to 24 hours of battery life out of it.
Another design feature that makes the Soundhawk a little different than, say the Sound World Solutions CS50, is the wireless microphone. This is a great design feature because it helps to enhance the signal-to-noise ratio when it is placed near the sound source. The wireless mic delivers only the sound you want to hear to your Scoop.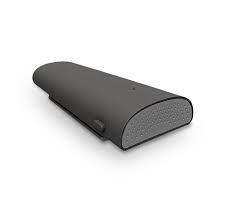 Price
The price for the Smart Listening System including the scoop, the wireless microphone, the charge case and the app is $299 with free shipping. The company offers a 60 day money back guarantee as well as a 1 year warranty from date of shipping.
PROS
Cost
Ease of use
Ability to customize and tune the device to your personal hearing preferences.
Doesn't look like traditional hearing aid
CONS
People might find it rude if you are talking to them while wearing what they perceive to be a Bluetooth headset.
Only expected to be worn 2 to 4 hours a day, with a battery life of 8 hours.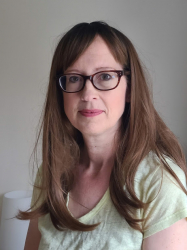 Latest posts by Frances Martin
(see all)