The iHearMAX High Definition Hearing Device comes from a start-up called iHear Medical that is located in the San Francisco area. The mission of the company is to help make affordable and accessible hearing solutions that have superior sound quality and that utilize online tools. They are part of a wave of companies that are trying to disrupt the current hearing aid system where some hearing aids can cost up to $7000 for a pair. The high cost of traditional hearing aids means that they are out of reach for so many people who would really benefit from having a hearing device.
Along with the low price, the advantages of this device are that it is very small, the customer can customize the sound, and the company offers extensive support by licensed hearing professionals (some additional fees required).
Comfort
One of the big selling features of this model is that it is virtually invisible when you are wearing it, since it is so small. This is great for a lot of users, but if you have hand dexterity issues you probably won't want to use such a small device because it will be difficult to change the settings using the push button. It will also probably be harder to change the battery.
You can get the device in either a standard or a petite size, if your ears are smaller. The iHearMax also comes with 6 different tip or dome sizes (vented and standard), so you have a lot of choice for finding a comfortable fit, whatever the size or shape of your ear canal.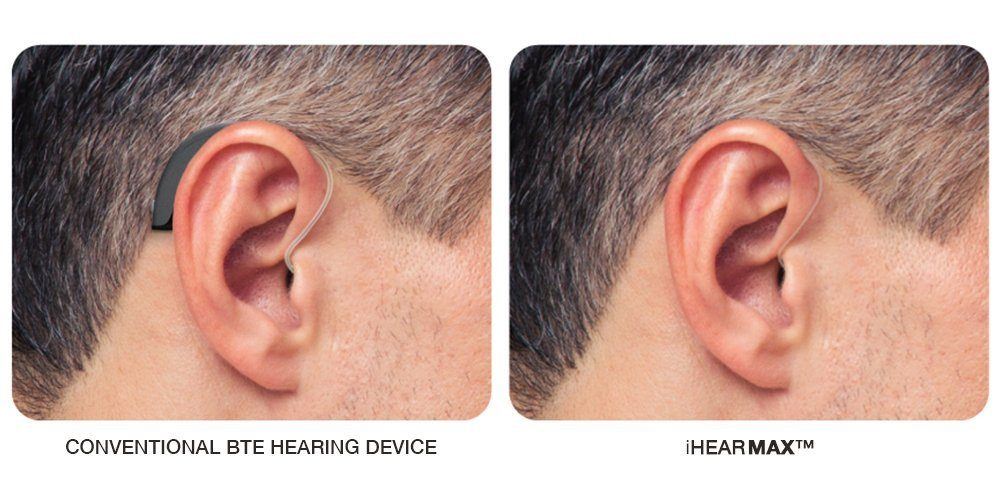 Sound Quality
The iHearMax has 100% digital sound processing technology that you can adjust and customize using your own computer and the company's online tools. If you are a hearing aid wearer and have had to visit your hearing specialists for adjustments, then you will know how useful being able to adjust the sound quality yourself can be. The option to customize the device can be a huge advantage for some users. The online tools are pretty simple to use, but if you aren't comfortable using a computer then this probably isn't the right device for you.
The way that iHEAR devices have you customize the sound are really easy and user friendly.  Audio is streamed into the hearing device and then you use their tools to adjust the sound based on loudness, speech clarity and intelligibility, music and for male as well as female voices.
One downside to being able to have the option to customize the sound is that you have to buy a Max Essentials Kit which is approximately $149. Although you can use the hearing aid with it's 4 standard programs without buying the extra programming kit.
The device has a push button that lets you the adjust volume and cycle through 4 program settings for different sound environments. It also has digital noise suppression that will help drown out background noise. Both of these features are common for hearing devices in this price range.
The adaptive feedback cancellation technology should help prevent the jarring loud tonal signals that can sometimes occur with hearing aids or amplifiers.
One other feature that is somewhat unusual for a hearing device at this price is that it includes a telecoil, so you can use that while talking on the phone to get better sound quality, or you can hook into audio loops at church or lectures if they are being used.
Warranty
It comes with a 30 day money back guarantee and a 1 year warranty.
Battery Life
The MAX Power battery should last about 170 hours (12 days of typical use with it being turned off at night). The batteries will probably cost you around $3 per month. The initial package comes with a 2 month supply of batteries. The device also has a low battery indicator.
Help and Support
To just get general support you can submit an email inquiry or use phone support that is available in the U.S Mondays to Fridays from 8:00 AM to 6:00 PM (Pacific Standard Time). They also have an extensive FAQ and a few how-to videos listed on their support page.
iHear also offers a somewhat unique (for hearing amplifiers) support program. With your initial purchase, you get access to the iHear EarPING program for 30 days. EarPING is a service that lets iHear assist you with your hearing devices remotely (they can ping it) using either online chat or by phone. Once the 30 days are up, you can extend the service by enrolling in their Professional Support premium plan. Along with the EarPING service, you also get unlimited technical support.
For an additional $49 per ear ($98 pair) you can also purchase a one year loss and damage protection plan that will give you a one-time replacement of your hearing device if has been lost or accidentally damaged. This plan must be selected at the initial purchase of the hearing device, or within 14 days of initial purchase.
iHearMax vs. Empower vs. Otofonix
Empower and Otofonix are very similar styles with the same type of features.  Based on feedback from our readers, Empower is the model that we recommend if you are looking for a design where you don't have to mess around with settings too much. The iHearMax is kind of the next step up from Empower or Otofonix, mainly because it does give you that option to customize the sound. This is a great feature to have, but it isn't for everyone. There are other types of amplifiers that allow you to customize sound like the Sound World Solutions amplifiers. If you are comfortable with technology, you will probably love the iHearMax because it means that you don't have to go to a hearing specialist to have your devices adjusted, you really have the control in your own hands. If you don't like having to play around with devices or you are buying an amplifier for someone else who may not be great using a computer, this isn't the aid for you. Even though they have lots of support options, you will probably want to go with a simpler device.
Overview
It is really great to see more and more products becoming available to help make hearing aids more affordable. iHear is a company that is specifically dedicated to helping address the needs for affordable hearing solutions for everyone, and the iHearMax is a great way to help get an accessible, good quality hearing device into the hands of people who really need it and can benefit from it.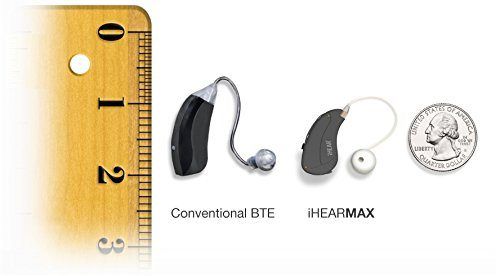 iHearMax currently comes in 2 sizes Standard and Petite. You can buy either a left or right ear configuration, or buy them as a pair. They currently only come in the color black. The initial package comes with a 1 month supply of batteries & tips (domes).  You can buy replacement tips and batteries on the iHear website. The device comes with 1 battery pack (6 batteries / 1 month supply for a pair of devices), 1 cleaning wipe , Max Tip (dome) set. To program the iHearMax you need to purchase separately an iHear Max Programming Kit (+$99).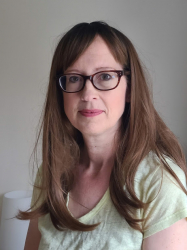 Latest posts by Frances Martin
(see all)