Like previous versions of the Pocketalker, the Pocketalker Ultra 2.0 is a fantastic device for people with mild to moderate hearing loss, who need a hearing boost in certain situations like 1-on-1 conversations, TV listening, small groups.
It also works really well for users in nursing homes and assisted living facilities to help communicate with staff and other residents.
It is designed to be easy for anyone to use, all you need to do is point the microphone near what you want to hear, put on the headphones, and then you will be able to hear more clearly.
The price has gone up slightly for this model, but with the extra cost comes many new and improved features.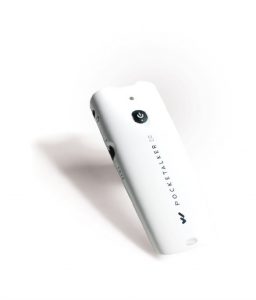 Features
The obvious difference between this version and previous versions of the Pocketalker is the sleek, modern design. Now it is white rather than silver with more of a high-tech look to it.  It is lighter and much thinner; making it easy to carry around with you and to hold.
Pocketalker has also corrected some of the problems they had with earlier designs, specifically, they have extended the high and low-frequency range, making the sound much clearer and easier to customize. They have also added an internal microphone and added a new built-in t-coil.
The t-coil is a great new feature that when switched to the ON position, the microphone becomes disabled and the device picks up the signal in the looped environment (churches, meetings).
Another feature that Williams Sound has added, is the ability to be rechargeable ready, which just means it has a charging port to the device that you can use with a rechargeable battery kit (sold separately). They have also added a balance control, which was sorely lacking in the older model. This allows the user to adjust the volume as needed between the right and the left headphone.
Sound Quality
Many of the updated features have helped a great deal with overall sound quality. Since this unit includes both an internal and plug-in microphone, you have more control over customizing the sound for the various situations as it may be needed.
The output balance control is a nice feature for those who have different levels of hearing loss in each ear.  The tone control is very important to the overall sound quality and makes the biggest difference over how well you will be in your listening environment. All of these different controls are easy to use and are uncomplicated, even for those who have vision issues or who have difficulty using smaller devices.
The PKT2.0 can be used with mono or stereo headphones so now you can use the type of headphones, earbuds, or neck loops that you find most comfortable.
Design
The Pocketalker Ultra 2.0 is very modern and sleek with an easy-to-hold design. The microphone is located internally so it no longer protrudes from the top as it has in previous designs.
The PKT2.0 does have an external microphone port that will accommodate a plug-in mount microphone (included in packaging) although it does not have to be plugged in to use the device. Overall it is a much smaller, lighter, and more portable device than previous models.
Battery Life
The Pocketalker Ultra 2.0 has a battery life of up to 105 hours of use with 2 AAA batteries. You also have the option to use regular rechargeable batteries or purchase a Rechargeable Battery Kit (sold separately) that uses a USB port for charging AAA rechargeable batteries.
This means that if you purchase the separate battery recharging kit, you can recharge the battery without having to take them out of the battery compartment.
Amplification Level
The Pocketalker 2.0 personal amplifier has an amplification level of up to 63dB amplification, which is an upgrade from the Pocketalker Ultra that has a 50dB amplification.
A 63db amplification boost is very high for a hand-held device and I believe is one of the highest on the market for this style of amplifier.
Who would benefit from this device?
Great for churches or meeting where a hearing loop is installed so you can turn on the t-coil for better hearing
Good for the elderly who are not comfortable wearing in-ear hearing aids
Anyone having trouble communicating with family members in hospitals, nursing homes and assisted living facilities
Helpful when watching television
Great for one-on-one conversations
Customization
The PTK2.0 allows for a decent amount of customization, due to the balance control along with the tone and volume control. The amplification level of up to 63 dB is a great feature for people with more severe hearing loss.
Warranty
You can't beat the warranty for the PKT2.0, it is  5 years for parts and labor and 90 days on accessories.
Customer Support and Help
Williams Sound has a great reputation for support on its products. You can contact them in a couple of different ways. They have an online form on their website or you can call them at:
The Pocketalker Ultra 2.0  is available through online retailers for a cost of approximately $189. There are various accessories that you can add to the base version. Generally, the basic version comes with dual earbuds, headphones that can fold, microphone, 12″ TV amplifying extension cord, 2 AAA batteries, belt clip, and lanyard.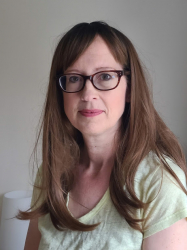 Latest posts by Frances Martin
(see all)