Neosonic is a relatively new company that is currently offering four different hearing amplifiers, with the Neosonic Hearing Amplifier Mini RIC having the most advanced sound processing technology of the four models that they sell.
Comfort
Neosonic Hearing Amplifier Mini RIC is very small, so it should be a comfortable fit for the average user. Usually with hearing amplifiers the smaller, the better since it will be nice and light. Reviews of this device report that the ear dome stays in place quite well, although some users find the tube from the unit to the dome a little short. It comes with 5 domes in the package; 3 are open domes in small, medium, large sizes and the other 2 are double layered close domes. It is excellent that this amplifier comes with such a large selection of domes since it will allow you to test out what works best and is most comfortable for you. Generally, open domes tend to be a little more comfortable to wear since you can hear some of the natural sounds that go through the piece. While closed domes usually mean that you get better hearing performance, although everyone is different, so you have to use trial and error to work out what you like best.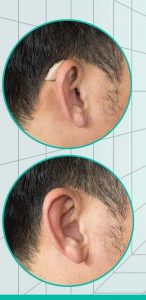 Sound Quality
The sound quality of this device is reportedly very good. It does use the type of technology that should be giving you pretty clear, sound like 4-channel processing, that can separate speech from background noise, and a digital signal processor to further purify the sound. It has a 48dB Peak Gain, which is pretty high for an over-the-counter hearing amplifier. Also, since the receiver is an in-ear style, that helps to add to the sound quality
Warranty
The Neosonic Hearing Amplifier Mini RIC comes with a 12-month warranty as well as a 45-day money-back guarantee. They promise a no-hassle return process and will even pay the return shipping costs.
Battery Life
The Neosonic Hearing Amplifier Mini RIC takes a size 10 zinc air hearing aid battery that can be purchased quite easily online or at places like Walmart. The battery life is approximately 5 days. There is no on/off button, and so you have to open the battery door at night to make sure you prolong the life of the battery. It is relatively common on this type of product and can be a pain, especially since the unit is so small. If you do have difficulty handling small items, you may want to avoid this unit for that reason.
Help and Support
Reviews report that the help and support from Neosonic are excellent. They are easy to get in touch with and are very helpful, responsive, and professional when dealing with issues that may arise.  Customers who have returned devices found the process to be quick and easy. You can contact Neosonic through their website, by email or by phone.
Sound Customization
Similar to its competitors, The Neosonic Hearing Amplifier Mini RIC has 4 pre-programmed amplification options that are suitable for the most typical hearing loss. You change the program based on the situation you are in. The programs are normal, outdoor, noisy, and meeting.  You will have to spend a bit of time experimenting with the modes and volume levels until you find the combination that gives you the best results in various situations.
Overview

The Neosonic Hearing Amplifier Mini RIC is a great, new option in the growing good quality hearing amplifier market that is bringing some of the technology of high-end hearing aids to those with hearing loss at much more reasonable prices. It is still quite a new product, but the reviews for the Neosonic Hearing Amplifier Mini RIC are very positive for both the quality of the device, as well as the customer support and service that you get from Neosonic.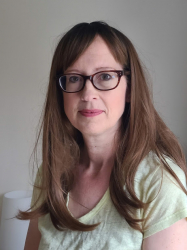 Latest posts by Frances Martin
(see all)