The Williams Sound Pocketalker Ultra (Model  PKT D1 EH) is a very popular hand-held hearing amplifier. It is an excellent option for anyone who may have mild to moderate hearing loss, and who needs a hearing boost in challenging hearing situations. Its small size lets you take the Pocketalker anywhere; it is ideal for 1-on-1 conversations, TV listening, small groups, and is especially useful in nursing homes and assisted living facilities to help communicate with residents.
It works by picking up sounds and boosting them according to the volume you've set on the unit.  If you or a loved, one has had difficulty using hearing aids or behind the ear amplifiers because they are uncomfortable, then hand-held amplifiers are a good alternative. The Pocketalker is a highly recommended, good quality, and moderately price device to test out.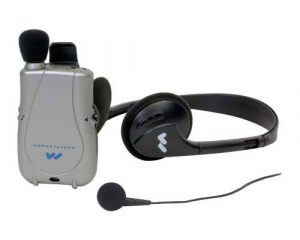 Sound Quality
The Pocketalker is what is considered an amplifier, so essentially it just amplifies the sounds around you. The sound quality is quite good, and you can hone in on a particular speaker or sound using the microphone. When you use the mic, it filters out a reasonable amount of the background noise, although as with all hearing devices you will need to give your brain and your ears some time to get used to listening with an amplifier. If you give it a bit of time, you will slowly start to adjust to the device.
To improve the sound quality, it is recommended that you switch the headphone or earbuds that come with the unit to a higher quality set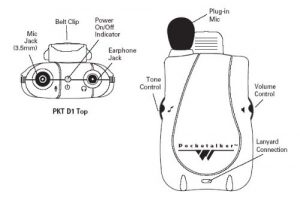 Comfort
The Pocketalker has a variety of earphones and headphones that you can use with it. The headset and earbuds that come with the Pocketaker aren't perfect, so you will want to replace them with something a bit higher quality that will also be more comfortable and will help with getting clear sound. If you use the dual earbuds that are included with the device, you will hear sound in both ears. It is because the unit is a "mono" device (not stereo) and the included earbuds are designed to work with a "mono" device.  If you do replace the headphones since you will also want to purchase a small "mono to stereo" adapter (at the cost of around $4) since the Pocketalker headphones are "mono" while most other headphones are "stereo."
The device also comes with a 12 ft. extension cord is great for watching TV. The way that it works is the microphone is removed from the unit, and then you use the extension cord to connect the microphone to the unit. You place the microphone close to the TV, and you can hear the TV at normal volume so it won't disturb others in the house. Some of the popular cheaper hand-held devices don't have such a long cord, so you are forced to sit really close to the TV to hear it.  If you want to sit some distance away from the TV, this is a better option than something like the Super Ear amplifier.
Battery Life
The Pocketalker Ultra has an excellent battery life of 100 hours. You can prolong the battery life by making sure that it is turned off when not in use, it has a small red light that indicates that the device is turned on so you won't accidentally leave it running. This unit runs on 2x AAA batteries
Who would benefit from this device?
Suitable for the elderly that won't wear hearing aids or who regularly misplaces hearing aids
Anyone having trouble communicating with family members in hospitals, nursing homes and assisted living facilities
Good for people who are having trouble hearing in meetings
Excellent for watching television
Great for one-on-one conversations, or conversations around a table (family dinners), or in cars
Good for people with mild hearing loss who know they need some help but aren't ready for professional hearing aids
Amplification Level
The Pocketalker has an amplification gain 20-40 dB acoustic gain, making it ideal for people with mild to moderate hearing loss. You use a wheel on the side of the device to control the amplification level, so if the wheel is moved between uses, then the preferred amplification level doesn't remain set.  Since it is an amplifier, the device, it will pick up a lot of ambient and background noise (unless you have the speaker talk directly into the microphone). It will take most users a bit of getting used to, but that is a common issue for most types of listening device.
Customization
The Pocketalker offers a tone control along with the amplification control, which is more than lower priced models provide. The Super Ear doesn't give you tone control, but if you spend a bit more money and get the Bellman Audio Maxi Personal Amplifier, you can get more customization options.
The more customization that you can do to a listening device, the easier it is to help you get the right sound for your personal listening preference or your hearing loss. If you are someone very interested in or specific about sound quality, then you should be looking at features that allow you to customize a device when you are shopping around. If, on the other hand, you are buying for someone who needs a product to amplify sound that is easy to use, then the Pocketalker will do the job.
Warranty
The warranty is one of the longest out there for hearing amplifiers at five years for parts and labor and 90 days on accessories.
Customer Support and Help
Williams Sound has a great reputation for support on its products. You can contact them in a couple of different ways. They have an online form on their website, or you can call them at:
The Pocketalker is available through online retailers for a cost of approximately $120. It comes with the PKT D1 amplifier, a single mini earbud, folding headphones,  an extension cord,  a microphone, and a lanyard.
Pros:
Easy to use
Long extension cable  and  mic that will help eliminate  any ambient noise when people speak directly into the mic
Long battery life running on 2x AAA batteries
An affordable alternative to hearing aids
Dependable and requires no maintenance.
Cons:
 Earphones could be better quality
Mono input and output only
Would be nice to add more features to customize the sound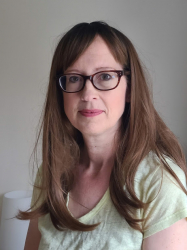 Latest posts by Frances Martin
(see all)