The Otofonix Elite is one option if you are looking for a behind-the-ear amplifier in the under $500 price range. Each ear costs approximately $250, and you can purchase them on their own or as a pair, depending on your needs. The Elite is excellent for individuals who want a simple easy to use product that offers some of the more advanced technology that you won't find on cheaper amplifiers, but you don't want to pay thousands of dollars for high-end hearing aids. It has background noise reduction and feedback cancellation that helps to deliver excellent sound quality. It is also tiny and has a comfortable fit for most users.
Otofonix is based in Huntersville, NC, USA, but the amplifiers are manufactured in China (as most are). The company was founded by a retired Board-Certified Otolaryngologist (ENT Physician) who helped design this amplifier along with the help of other hearing specialists and audiologists.
Comfort
Most users seem to agree that The Elite is a comfortable device. It comes preassembled with the most popular size sound tube and a medium-size ear dome. In total, it comes with two sound tubes and three ear domes (small, medium, and large) to ensure you can get a comfortable fit for your size of ear.  The small size of the device, as well as the small size of the sound tube, adds a great deal to just how comfortable this amplifier is to wear. As with other devices, it will take some time to adjust to the settings, especially if you haven't worn an amplifier in the past.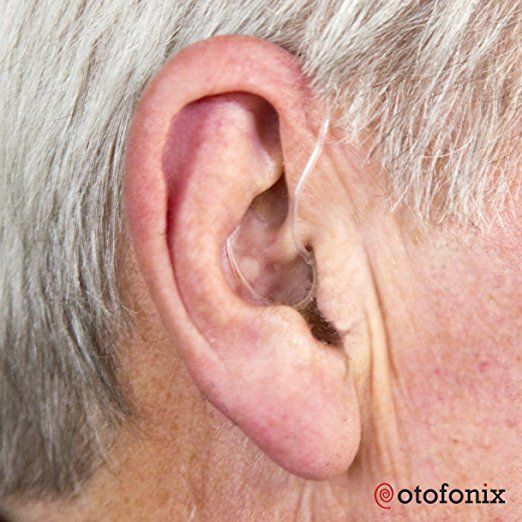 Sound Quality
You have to remember that this device is a sound amplifier so that it will amplify the sounds around you. Because of this, it takes a little while to get used to using it. Some users find that cheap amplifiers are useless when you go to environments that have a lot of noise like a restaurant. What is great about this device is that it has background noise-canceling technology, making it very useful in difficult to hear situations. Some users have noted that the open dome type of amplifier gives you a more natural hearing experience. The rocker switch controls both volume and the four pre-sets, so you have to play around with that switch a bit to make sure you find what works best for you in various situations
Warranty
The Otofonix Elite comes with a 45-Day free return policy. To return the item, you need to contact the company, and they will give you a Return Merchandise Authorization (RMA), and also tell you exactly how to return it.
The amplifier comes with a 1-year factory warranty against defects in materials and workmanship. If it stops working due to parts, material or workmanship the company will repair or replace it for free (if they inspect it and agree that it isn`t working because of one of those reasons).  The manufacturer also offers a Protection Plan for an extra fee in case you are worried about unexpected or accidental damage.
Battery Life
The Otofonix Elite takes a size 312 zinc air hearing aid battery that can be purchased at places like Costco, Walmart, or online on Amazon. The batteries can last about 7 to 10 days, depending on how much the amplifier is used. The company recommends that you open the battery compartment door when you go to bed at night to help conserve battery life.
Help and Support
The Otofonix website has a support section that offers email support, or if you prefer, you can call them between 9-5 Eastern Time for phone support. You can also get in contact through the chat on their site. The device itself comes with a helpful, user-friendly instruction booklet, and if that isn't enough, the company's website has an extensive FAQ.
Sound Customization
The Elite is designed to be as easy to use as possible, so it has four pre-programmed amplification settings to fit the most common hearing loss and hearing environments.  With a little bit of trial and error, you will be able to find the right settings for your hearing loss in the various situations you encounter in your daily life. The company claims that the four pre-programmed settings address 95% of the most common listening challenges. The settings that you can choose from are:
Normal setting – Normal listening environment like having a conversation in your home
Noisy setting – You use this setting when you need to reduce background noise, great for a restaurant or a mall.
Treble setting – If you find that you are getting feedback or any high pitched sound, you would switch it to the treble setting.
Power setting – Has a higher volume than the standard-setting, this is a good setting for watching TV.
Overview
The Otofonix Elite color options are cream beige and pearl grey. You must buy either a left or right ear version if you can only afford one ear experts recommend that you buy for the ear that you hear best from.  These devices are intended for moderate hearing loss, not severe hearing loss.
If you are interested in the Elite but would like a cheaper version with fewer features Otofonix also offers a design called the Apex Mini, or if you would like more features and a product that can address moderate to a severe hearing loss they have a design that is a bit more expensive called the Encore.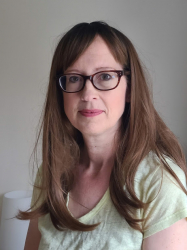 Latest posts by Frances Martin
(see all)