RCA RPSA05 vs. RCA RPSA10
The main difference between the RPSA10 and the RPSA05 is the battery. The RPSA10 comes with a built-in rechargeable battery that cannot be replaced. The RPSA05 uses a replaceable zinc-air 312 (A312) battery that has about a 7-10 day battery life. The average user will probably have to spend somewhere around $30-$50 a year to replace the battery on the RPSA05 model. The other difference is the RPSA10 has an on-off switch, while the RPSA05 does not.
Comfort
Like all behind the ear hearing amplifiers, it takes users a little while to get used to the Symphonix. Some users find their ear gets sore when wearing this device, but the more that you wear it the easier it will be to get used to it. You may have to experiment with which ear pieces to find the most comfortable fit. It comes in one size that fits most men or women, and it works in either ear. It is often described as discreet, so if you are self-conscious about wearing an amplifier, this may be something to consider.  Since this model is a little smaller than most of the other hearing amplifiers, it makes a good option if you have smaller ears. The unit uses patented thin sound tubes, weighs less than one-quarter ounce and won't interfere with use of a mobile phone.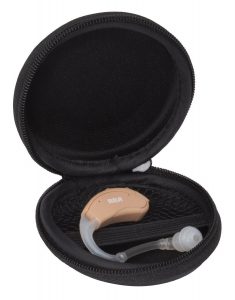 Customization
Unfortunately, the Symphonix models don't have the latest customization technology that you can get with some of the newer products like the Soundhawk or the New World Solution amplifiers, but it does come with 3 volume and noise-reduction settings  that you can experiment with to find the right setting that will work for you. It will take a while to get used to the sound and to find out what works best for you, so you will have to be patient while your ears adjust to the amplifier.
You can also use the ear pieces to help customize the hearing experience. The unit comes with three ear pieces: two narrow-tubes, low volume versions, one for each ear; and a single wide-tube, high-volume version that can be used with either ear. You will also want to spend some time trying the different pieces, to find the right fit and volume levels for your ears.
Sound Quality
Most users find the sound quality for the RCA Symphonix is adequate for a device in this price range. Obviously you aren't going to be getting top of the line sound in this device, but the Symphonix uses better technology that its lower priced competitors. It uses high-definition digital sound processing, speech frequency amplification and active layered noise reduction, which all help to filter out unwanted background noises. This technology lets you hear the sounds you want to hear, as opposed to just amplifying all of the sounds around you, which is what most lower end amplifiers do.
The RCA Symphonix has a THD <0.5%, which is very good for an inexpensive sound amplifier, the lower the THD the more accurate reproduction of sound you will be getting.
Who should use the RCA Symphonix?
Pretty much anyone with mild to moderate hearing loss could benefit from the use of the RCA Symphonix. It is marketed as a device that you can use in lots of different situations including; large groups, crowded streets, office settings, watching TV, or at a restaurant with friends. The small design makes it a particularly comfortable model for users who have smaller ears, or individuasl who are looking for a very discreet device. If you are looking at this Symphonix for an elderly user, you should consider the small size may be difficult for those who have trouble working with small objects (a hand held amplifier may be a better choice).
A number of users reported having to return the amplifier, as it was too small to fit comfortably into larger ears.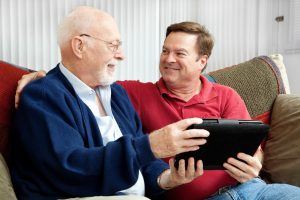 Battery Life and Replacement
The RPSA05 model uses a standard A312 battery that is easy to install and replace, with a 7-10 day battery life.  The RPSA10 uses a built-in rechargeable battery; this eliminates the cost of replacement batteries, although some users have found that it doesn't maintain its charge very well.
Warranty
RCA offer a 6-Month Warranty. You will have to Register the Product and keep all receipts and shipping info to ensure that you have no trouble if you need to use the warranty.
Customer Support and Help
If you have purchased any of the cheaper hearing amplifiers you will have noticed the customer support has probably been difficult to come by. Luckily RCA offer a good online support system that goes over getting started, cleaning and care, trouble shooting, warranty info. It also covers how to contact them if you need help.
Overall
For the price, the RCA Symphonix is well worth considering. You are getting better technology (high-definition digital sound processing, speech frequency amplification and active layered noise reduction) than is used in cheaper option, but you aren't paying an excessive amount for it. It doesn't have all of the bells and whistles of higher end models, but many users will find it suits their needs quite well.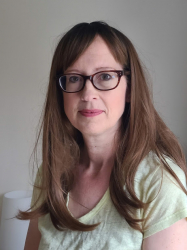 Latest posts by Frances Martin
(see all)