There are always new hearing amplifier products that are being introduced. Here are a few of the latest and most buzz-worthy:
Audicus Solo Personal Audio Amplifier

The Solo is a hearing amplifier along the same lines as the Sound World Solutions models or the SoundHawk that lets you customize your listening preference by adjusting them from an app on your smartphone. This company is part of the new wave of start-ups that are helping to provide solutions and alternative for hearing loss that is more affordable and accessible to a wider range of people. The Solo is not a hearing aid, but an amplifier. It only amplifies the sounds you want to hear and reduces background noise when you are in difficult hearing situations. It is not meant to be worn all day as you would a hearing aid. The Solo allows you to adjust the amplifier using the Audicus Tuner app and tuner kit, so you can get the best hearing experience possible in whatever situation you may find yourself in.  These amplifiers are sold by a start-up called Audicus that sells hearing aids and amplifiers at lower prices than traditional methods of getting hearing aids. It comes in 6 different color options. It also has a 45-day money back guarantee and a 1-year warranty.
Jacoti Hearing Suite
Jacoti Hearing Suite is an innovative set of cloud-enabled mobile apps that lets anyone have extra hearing support. What is interesting about this start-up up is that the products are designed for both people with normal hearing and those with hearing loss. The company claims to have technology that is more reliable and has more capabilities than what currently exists in the hearing and hearing amplifier market. The products in the Suite include a self-hearing test, a medically certified hearing aid application, an application to help hear in meetings, classes, and lectures. It was a CES 2016 Innovation Awards Honoree in the Tech for a better world product category. You can download it from the Apple iPhone App Store.
EarGo

The Eargo is a cool looking new design for a hearing device. The design is an in-ear style based on fly-fishing of all things. It uses something called Flexi Fibers that allow air to flow in and out of the ear; this design helps to make the device very comfortable for users to wear. For hearing aids, they aren't wildly expensive (around $2000) and can be purchased online through the Eargo website. They are meant for individuals with mild to moderate hearing loss and are almost invisible when you are wearing them. It features standard layered noise reduction technology, extended frequency range up to 7750 Hz, and is rechargeable. It also comes with a 60-day money back guarantee, to let you try it out relatively risk-free.  You can find them online at Amazon.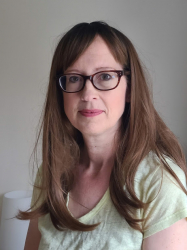 Latest posts by Frances Martin
(see all)