The Bellman Audio Maxi Personal Amplifier is a well-designed and useful product for anyone who is looking for something to amplify their hearing. This model uses a device with a microphone that you can place in front of the person you are talking to, in the car, at the doctors, in hospitals or care facilities so the sound will come directly in your ears using headphones or earphones. You can use it with, or without hearing aids to get a hearing boost. It is a high quality, easy to use, and affordable product that will drastically improve a lot of peoples ability to hear in a variety of situations.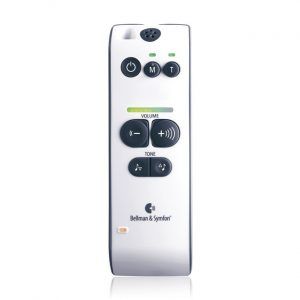 Comfort
The Maxi personal amplifier has large tactile controls and is designed for people with impaired vision or low dexterity as well as hearing loss. As with most devices that you can use to help with hearing loss, it takes a little bit of time to get used to the product; your brain needs to adjust to learning what sounds to ignore. The headphones that it comes with are comfortable and good quality. It also comes with an ear pod, a belt clip, a lanyard and a long extension cable that can attach directly to your TV. It is larger than the Pocktalker, so it is a bit too big to put in a pocket, but for anyone who wants big buttons and something easy to hold or place on a table or chair for TV listening, this will do the job very well.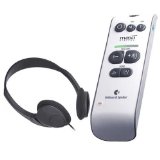 Customization
When you are shopping for a hearing amplifier, it is essential that you look for a device that you can customize the sound to your personal sound preference. The basic controls on the Maxi are designed to be easy to use, and you can adjust the tone and the volume very quickly. The Maxi also allows you to customize the sound further using a button that is located on the back of the device between the batteries. Through this feature, you can adjust the sound balance of the headphones as well as the tone quality control.
Sound Quality
The Maxi uses an Omnidirectional microphone, which means that sound is picked up from all directions around the device. That might sound like a bad thing, but it also uses a fairly sophisticated algorithm that can recognize speech and can amplify it, while at the same time filtering out any unwanted background noise using digital signal processing technology. The sound quality remains good in loud listening situations like restaurants or malls, which is sometimes a difficult thing to get right.
The Maxi is also great for watching TV. You can use the directional microphone on the device, or it comes with an extension cord that lets you plug it into a TV so you can get the sound directly from your television.
Who should use the Maxi?
The Maxi is so easy to use that most users will be able to get it working within a few minutes. The design is straightforward and everything is accessible with the press of a button. There are no complicated menus to navigate, making it a useful device for a wide range of people. Here are a few examples where the Maxi would be helpful:
Suitable for anyone in the hospital, rehabilitation clinics, and nursing homes who might have trouble using smaller devices
Good for people who can't or won't wear hearing aids, but will wear headphones
For people who need a sound boost when watching TV or during conversations
People who have telecoil-equipped hearing aids who need a sound boost when at church, theatre or anywhere there is a loop system installed.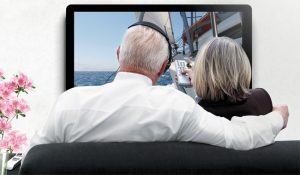 How the Maxi Works With Hearing Aids
If you wear a telecoil-equipped hearing aid but still need a little bit of a boost in certain situations, the Maxi has a Telecoil pickup for inductive loops that works well in venues with a loop system like theatres, concert halls, and churches. If you aren't sure whether a particular place is telecoil accessible, look for this symbol: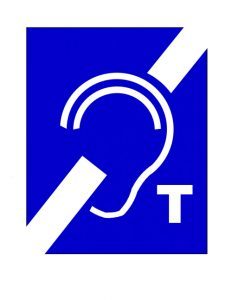 All you need to do to hear better is to activate the telecoil by pressing the "T" button on the device when you want the telecoil switched on. When you want to go back to the internal microphone, you just press the "M" button. It's made to be super simple to switch back and forth.
Battery Life
The Maxi has excellent battery life. It uses 2 AA batteries that can last between 100 – 150 hours depending on the load and sound pressure When the battery is getting low a Low Battery indicator (Amber LED) notifies the user when the estimated remaining time on the battery is around 10 hours.
Warranty
The Bellman Audio Maxi comes with a two-year warranty. It also has a one-year warranty for the Maxi Neckloop and 90-Day Warranty for all other accessories (i.e., headphone, earphone). If you buy it on Amazon, it is eligible for Amazon's 30-day returns policy
Customer Support and Help
When you go to the Bellman and Symfon website, there is a link under the 'Resources' section of the page that you can click to talk to a support representative via Skype or by email. They also have a great learning video that is worth checking out to learn the basic features and how to customize the device.
Overall
If you are someone who needs a bit of hearing help in a specific situation the Bellman and Symfom Maxi is a good solution without spending thousands of dollars on hearing aids. It might seem a bit expensive for an amplifier, but when you think of the cost of a hearing aid and the potential improvement of the quality of life for anyone who might benefit from this device; it is worth investing a few hundred dollars.
You can purchase the Maxi for around $150-$190. It comes in grey with white front panel and grey buttons. The dimensions are 5.5″ L x 1.7″ W x 1″ H with a weight of 5 oz. with batteries. It comes with a transparent belt clip and a neck loop and lanyard for use with the telecoil.
Pros:
Controls are well laid out
Increases sound level dramatically
You can customize the amplification level for each ear
Cons:
Too big to fit in a pocket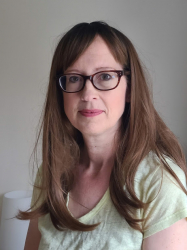 Latest posts by Frances Martin
(see all)